Philo Farnsworth, one of the pioneers of the television, used an early version of his Dissector tube to transmit his first picture, which was a dollar sign made up of sixty lines. His dollar sign is ironic as he did not win the series of patent wars for the television with rivals such as Zworykin.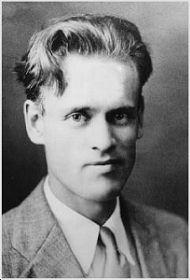 Exact Date Unknown
For other milestones in the development of television, see:
Source: Christopher H. Sterling and John Michael Kittross, Stay Tuned: A History of American Broadcasting (Mahwah, NJ: Lawrence Erlbaum Publishers, 2002), 161-162.
Image Source: "Philo Farnsworth," NNDB, http://www.nndb.com/people/662/000024590/philo-t-farnsworth.jpg (accessed December 14, 2011).